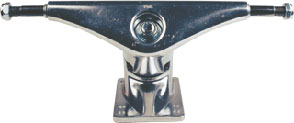 REVENGE Torsion
Longboard Trucks
Revolutionary Longboard Skateboard Truck
The patented external locking mechanism allows for the tightest turns with no need for riser pads even with wheels up to 73mm, resulting in a full circle on a 47" board in less than 8 feet, all with no wheel bite! Turning has never been easier.
Revenge Trucks are a revolution in torsion truck technology which allow longboards to perform like surf and snowboards. The Revenge performs moves you didn't think were possible on any type of deck. A looser truck than the typical "Indy" style, the Revenge takes a little bit of experience to fully appreciate the endless capabilities of the Truck. The Revenge truck excels above torsion trucks because it drastically reduces both turning radius and effort with no wheel bite. A little bit of pressure will result in a full circle on a 47" board in under 8 feet! Mounts on old and new school hole pattern, and fully adjustable bushings.Revenge Alpha II

* Overall Width: 8.75"
* Height: 3.375"
* Hole Pattern: Old & New
* Surface: Polished Aluminum
* Bushing: 97a High Impact Polyurethane
$ 37.95 PairRevenge Trucks - Pair 8.5"
Revenge Trucks - Pair 9"